Get Your ACS RPL Skill Assessment Positively Accepted Without Prior Writing Experience
Speak with our writers to avoid possible rejection!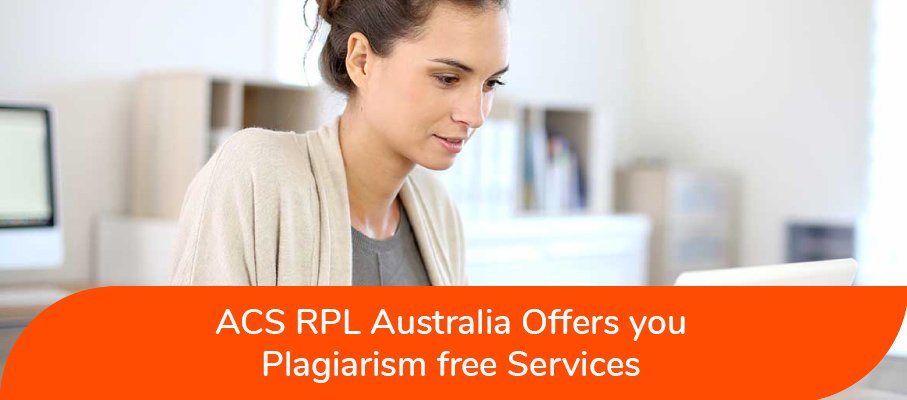 RPL plagiarism
removal service
To secure your RPL assessment's success, plagiarism detection and removal are key. ACS keeps a strict watch for plagiarized content in RPL reports.
While numerous RPL report samples are available online, remember that they are only for reference. Copying someone else's work and passing it off as your own is unethical.
If you're caught plagiarizing, ACS will immediately reject your RPL report. The plagiarism report will highlight duplicated content and show the percentage of similarities, increasing the risk of rejection.
To avoid plagiarism and ensure a unique, authentic RPL report, seek assistance from top RPL report writing experts like ACSRPLAustralia. ACS demands original and verifiable content in RPL reports.
What is plagiarism in RPL report
Plagiarism is the deliberate copying of what others have written, their content, and their ideas, and then passing them off as your own. Imitating others' tasks and presenting them as your own is plagiarism.
Why should you choose our ACS RPL plagiarism
checking & removal service?
ACSRPLAustralia provides plagiarism-free, 100% original work and positively assessed reports that meet the standard set by the Australian guidelines.
ACSRPLAustralia has professional writers who prepare original content RPL reports along with ACS RPL samples according to the guidelines provided by ACS.
Plagiarism-free content is the best way to create an ACS project report sample based on your CV. ACSRPLAustralia.com has the best track record in getting the RPL assessment approved by the ACS.
So, you can be assured that you have your report with the best hands in the business. Just feel free to contact us.
Reasons For Choosing
ACSRPLAustralia
1: Reviewing multiple times
We ensure that your documents are fully unplagiarized by reviewing them multiple times. We perform multilevel verification to ensure that the RPL you submit to ACS is of the highest quality.
2: Plagiarism checking tool
We have the best tool to check your content's plagiarism. Using software produces accurate and timely results.
3: Expert writers
We have a team of experts with the best track record of getting the RPL assessment approved by ACS. Our experts proofread and edited the errors properly.
4: Provide plagiarized and modified content
We provide your modified content so you can see the modifications in your plagiarized content and easily view both plagiarized and modified content.
ACSRPLAustralia is thus the best option for RPL plagiarism removal services. We guarantee 100% original work, proper checking, and plagiarism removal services.
Get started on your RPL report today! Check out our pricing and save time and money with top-quality results.
Why choose ACSRPLAustralia for
RPL writing services?
RPL report written by inexperience & out of domain writer can get your application
rejected by ACS or even ban of 12 months from reapplying.
We at ACSRPLAustralia ensure following while writing your RPL report:
We are meticulous at preparing RPL report preparation & our track record speak for itself. We have 100%
successful acceptance by ACS with 100% customer satisfaction since our beginning in 2017.
Or You can Text/WhatsApp us for a call back!
1000's of
customers

can't be wrong
Here are some kind words from our post clients!

Developer Programmer - ANZSCO 261312
Thank you for this professional RPL. It is really a very good work. I really didn't expect to receive such a great report. Thanks again.

ICT Business Analyst - ANZSCO 261111
I bought your service for my brother who was applied for skilled worker visa. I want to thank you on behalf of my brother as he is exteremely satisfied.
Computer Network and Systems Engineer - ANZSCO 263111
My agent just informed me that I got suitable assessment from ACS. Thank you. I would also like to order to write another project report for my wife.
Have a question? Give us a ring on
+61 488 852 827 Or +61 488 854 763
We are always there to assist you!
Feel free to contact our friendly team of writers with any questions you have.