Get Your ACS RPL Skill Assessment Positively Accepted Without Prior Writing Experience
Speak with Our Writers To Avoid Possible Rejection!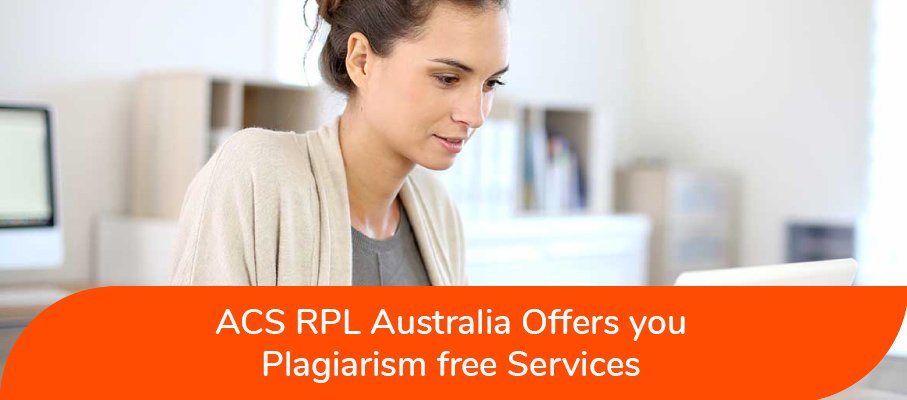 RPL Plagiarism
Removal Service
Plagiarism detection and removal is the primary factor to avoid RPL rejection from ACS as Australian Computer Society (ACS) keep an eye on plagiarism.

You may find lots of RPL report samples and resources online. But you have to be aware that those samples are provided for reference purpose only. Copying RPL is more of a portraying someone else's skills as yours.

If you copy content from those sample reports to your RPL reports, then you will be caught by ACS and your report will be rejected. Plagiarism report highlights the copied sentences and also provides the percentages of similarity which causes pointless struggle and prohibition increasing the ACS skill assessment rejection rate.

This comes from the fact that when you do not take professional assistance from top RPL Report Writing experts like ACSRPLAustralia.com. ACS requires your RPL reports to be unique and authenticate.
What is Plagiarism in RPL Report?
Plagiarism means to ditoo copying what others have written, their content and ideas then showing them as yours. Imitating others task and presenting them as your own is plagiarism.
Why You Should Choose Our ACS RPL Plagiarism
Checking & Removal Service ?
ACSRPLAustralia.com provides you the plagiarism free work, 100% original and positively assessed report meeting the standard set by the Australian guidelines.
ACSRPLAustralia.com has professional writers who prepare original content RPL reports along with ACS RPL Samples according to the guidelines provided by ACS.
Plagiarism free content is the best thing to create an ACS project report sample based on your CV. ACSRPLAustralia.com has the best track record in getting the RPL assessment approved by the ACS.
So, you can be assured that you have your report with the best hands in the business. Just Feel Free to Contact us.
Reasons For Choosing
ACSRPLAustralia.com
1: Reviewing Multiple Times
We ensure that your documents are fully unplagiarized by reviewing it multiple times. We do multilevel checking so that we provide you best RPL that you casubmit it to ACS.
2: Plagiarism Checking Tool
We have best plagiarism checking tool that we used to check plagiarism of your content. Using software gives result at fast track and also accurately
3: Expert Writers
We have a team of experts who have the best track record in getting RPL assessment approved by ACS. Our experts do proper proofreading and editing the errors.
4: Provide Plagiarized and Modified Content
We provide your content along with modified content. So that you can see the modification in your plagiarized content. You can view both plagiarized content and modified content easily.
Thus, ACSRPLAustralia.com is the best choice for RPL Plagiarism Removal Service. We guarantee you 100% original work, and proper checking and plagiarism removal service.
Pricing of
RPL Plagiarism Removal
Why Choose ACSRPLAustralia for
RPL Writing Services?
RPL Report written by inexperience & out of domain writer can get your application
rejected by ACS or even ban of 12 months from reapplying.
We at ACSRPL Australia ensure following while writing your RPL Report:
✔ Dedicated Computer Professional Writer
✔ Australian Based RPL Report Writing Services
✔ Plagiarism Free RPL Report
✔ Professional RPL Writes fo evry ICT ANZSCO Codes
We are meticulous at preparing RPL Report Preparation & our Track record speak for itself. We have 100%
Successful Acceptance by ACS with 100% customer satisfaction since our beginning in 2017.
Or You can Text/WhatsApp Us for a Call Back!
1000's of
Customers

can't be Wrong
Here are some kind words from our post clients!
Have a Question? Give us a Ring on
+61 488 852 827 Or +61 488 854 763
We are always there to assist you!
Feel free to Contact our friendly team of writers with any questions you have.