Download ACS Approved ANZSCO Code Sample for ICT Quality Assurance Engineer
Speak with Our Writers to get Successfully Assessed by ACS!
ANZSCO 263211 :
ICT Quality Assurance Engineer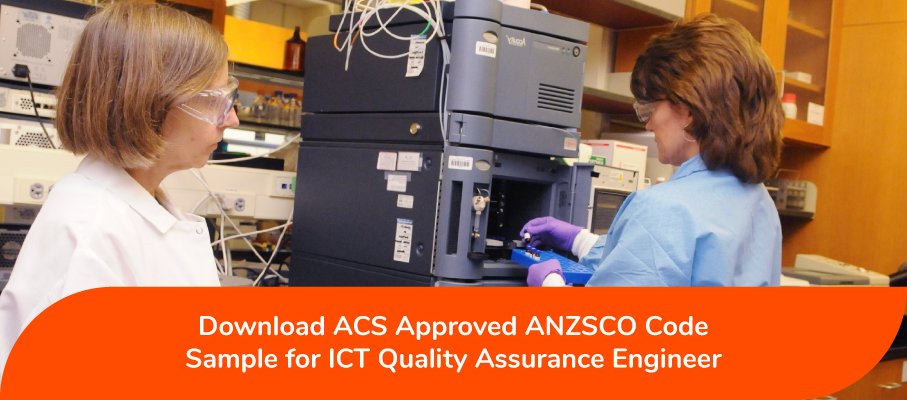 Quality Assurance Engineer Job Description
ICT Quality Assurance Engineer ANZSCO 263211 creates, maintains and manages technical quality assurance processes and procedures to assess efficiency, validity, value and functional performance of computer systems and environments, and audits systems to ensure compliance with, and adherence to, accredited internal and external industry quality standards and regulations. ICT Quality Assurance Engineer may supervise the work of ICT quality assurance teams.
ICT Quality Assurance Engineer Skills Requirements
Specializations
• Computer Systems Auditor
• Systems Auditor (ICT)
Alternative Titles
• Quality Analyst (ICT)
• Quality Manager (ICT)
• Quality Specialist (ICT)
Visa Provision for ICT Quality Assurance Engineer
As the occupation features on the Short-term Skilled Occupation List (STSOL), it is possible to apply for a Skilled Nominated 190 visa or a Skilled Regional Nominated 489 visa.
If you are employed in this occupation and you wish to pursue a GSM visa, you will be required to apply for state nomination in order to move to Australia.
Note: *Please note that while the occupation is on the STSOL it remains a possibility that no states currently have a demand for people in that profession. The online assessment only lists occupations which are currently in demand by a state or territory in Australia, so if the occupation does not appear on the online assessment you should consider seeking an employer sponsor in Australia.
Unit Group: 2632
ICT Support and Test Engineers
The job of ICT Quality Assurance Engineer is to develop procedures and strategies to support, create, maintain and manage technical quality assurance processes and guidelines and systems infrastructure, investigate, analyze and resolve system problems and performance issues, and test the behavior, functionality and integrity of systems.
Skill Level
Most occupations in this unit group have a level of skill commensurate with a bachelor degree or higher qualification. At least five years of relevant experience and/or relevant vendor certification may substitute for the formal qualification. In some instances relevant experience and/or on-the-job training may be required in addition to the formal qualification (ANZSCO Skill Level 1).
Occupations in this Group
English Requirement
• IELTS result with a minimum score of 6 (L, R, W), 7 in speaking and 7 overall;
• OET result with a minimum grade B in all sections;
• TOEFL iBT with a minimum score (L:12 R:13 W:21 S:23 overall L93);
• PTE Academic with a minimum score of 50 (L, R, W), 65 in speaking and 65 overall
Exceptions
• Australian Graduate exceptions apply in some states/territories
• Priority Skilled Lists may apply a specific requirement in some states/territories
• Countries exempt from submitting IELTS or OET include the UK; Canada; New Zealand; US; and Ireland
Where mandatory licensing or registration is required you must demonstrate a level of English either sufficient to meet licensing / registration or a minimum IELTS, or equivalent, whichever is higher.
Why Choose ACSRPLAustralia.com for
RPL Writing Services?
RPL Report written by inexperience & out of domain writer can get your application
rejected by ACS or even ban of 12 months from reapplying.
We at ACSRPL Australia ensure following while writing your RPL Report:
✔ Dedicated Computer Professional Writer
✔ Australian Based RPL Report Writing Services
✔ Plagiarism Free RPL Report
✔ Professional RPL Writers for every ICT ANZSCO Codes
We are meticulous at preparing RPL Report Preparation & our Track record speak for itself. We have 100%
Successful Acceptance by ACS with 100% customer satisfaction since our beginning in 2017.
Or You can Text/WhatsApp Us for a Call Back!

1000's of Customers can't be Wrong
Here are some kind words from our post clients!
Have a Question? Give us a Ring on
+61 488 852 827 Or +61 488 854 763
We are always there to assist you!
Feel free to Contact our friendly team of writers with any questions you have.